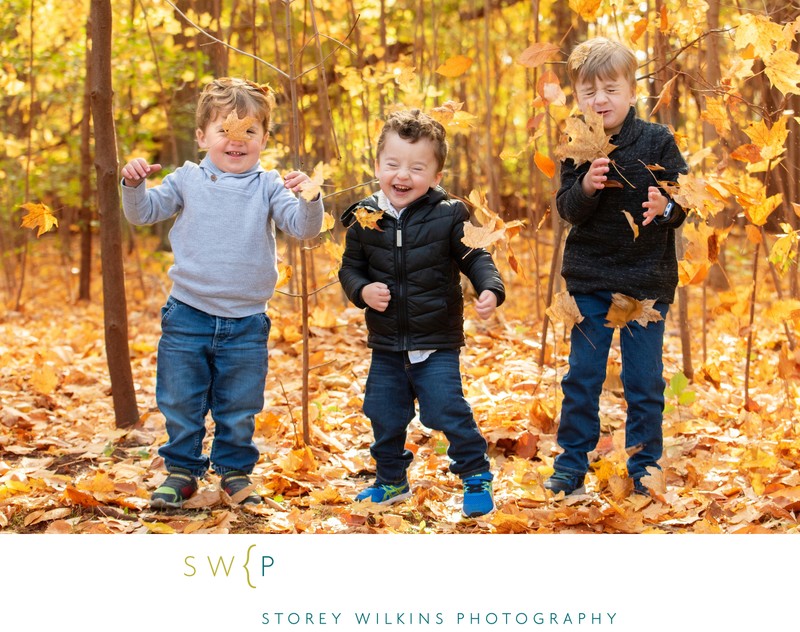 The Best Fall Colours Family Portrait Photo Locations in Toronto


Time of Year
Autumn is the best time of year for your annual professional family portrait session. The sweet spot in the GTA tends to be the last two weeks of October and the first two weeks of November. That is when our colours peak. If you live north of the city, then you want to book your session up to one month earlier.
In addition to the great range of yellows, greens, reds and oranges on the trees, the soft light that comes with overcast days makes for nice lighting on your faces. The key is picking the:
right location,
right weather conditions,
right time of day, and of course the
right angle.
Vantage Point
Think about it, the colours are up high on the trees and you are down on the ground. Having the colours in the background means that you have to be up high with the leaves. There are a few sneaky ways to achieve this vantage point, and a great professional family photographer knows how to achieve this for you. No DIY solutions here I am afraid.
DI-Why???
Speaking of DIY, don't be fooled by claims that you can DIY your own family portrait and get holiday card worthy photographs. Many of my clients have tried and failed and have come to me desperate to redo the session without the antsy kids, impatient spouse, the rushed self-timer, out of focus shots that are either under or over-exposed, where at least one member of the family has their eyes closed…need I continue. Spend the money. Do it right the first time. Get the perfect fall family portrait and enjoy the experience with me as your professional photographer.
Busy Families
Late October means your kids will be in full swing with their skating, hockey, basketball, football schedules…need I continue? Many of my hockey families tend to book their session when they know they have a free late afternoon (weekday or weekend). They usually know this by the second week of September when their practice and game schedules are announced so my fall schedule starts to book up about 6 weeks beforehand. Its always best to book your session as far in advance as you can.
To Permit or not to Permit
Sadly, no list is complete without mentioning the park permits and unfortunate fees that are required for formal photography of any kind. Your first thought is probably, can I get away with not getting a permit? Unless you are completely inconspicuous and look like you are just taking a casual stroll, you could be asked to leave if you are taking photos without a permit. This is true for DIY'ers as well as families who have their own photographer there.
I wish the city was more clear about what they mean by "formal photography." I get that a big photoshoot with big lights and lots of gear would require a permit, but I don't think a family photographer with a modest camera bag over the shoulder and the occasional reflector and speedlight should necessitate a permit. So, I usually meet my clients at the park and proceed as planned without a permit. It is your call if you would like to secure a permit in advance, just in case.
Location Location Location
So now that you have a date picked and it's on both of our calendars, the next step is to pick your location. Finding the perfect outdoors backdrop is key. Fortunately, Southern Ontario's legendary fall colours can be seen in at least 10 Toronto locations that offer a slice of that beauty and can be reliable locations for your fall family photos.
ROUGE NATIONAL URBAN PARK
This massive park offers many exciting photo opportunities and all that space makes it more likely that we can find a quiet nook of our own in which to take photographs. The park is run by the federal government, so no need to worry about Toronto's rules around professional photo shoots. Rouge Beach, at the southern tip of the park, is great if you want to have the small lake in the background, while Glen Eagles Vista Trail is an easy hike that will give us the opportunity to create some portraits with the Rouge River, Little Rouge Creek and some impressive bluffs.
COLONEL DANFORTH PARK & LOWER HIGHLAND CREEK PARK
Colonel Danforth Park located at 73 Colonel Danforth Trail, Toronto, ON M1C 1P8 has a thick tree canopy that explodes with colour in the fall. It is a huge park that blends right into Lower Highland Creek Park to the south. Highland Creek runs through both parks and can be a nice background for photographs. There are a bunch of trails we can take to get to the creek. In terms of where to meet, when you enter the park drive to the very last parking lot and let's meet there. We can then enter the trail that follows the creek to Lake Ontario. The trail is mostly flat and paved. There are a couple of dirt and gravel sections, but these areas are still easy to navigate. There are several places along the trail with benches or rocks to rest and admire nature. Facilities are located at the parking lot.
HIGH PARK
This really is Toronto's premier park. With the beautiful expanse of park, also comes the expanse of visitors to the park so I find the main scenic locations are usually pretty crowded, such as the maple leaf garden at the bottom of the Hillside Gardens, the waterfall and bridge located between the café and Grenadier Pond and the manicured hedges and water features found just southwest of the Colborne Lodge Drive and Hillside Road. As an alternative, I usually opt for the quieter nature paths. I normally recommend parking somewhere on High Park Blvd and walking into the park at the High Park Blvd entrance. I will meet you there. In the summer months there is a park washroom right there which is handy. During the shoulder seasons be sure to use the washroom before you arrive. The kids of photographs that I take in the park are on quiet narrow paths surrounded by tall grass. The park is known for its cherry blossoms in the spring, but as this is an article on fall family portraits I won't go there. Contact me for the do's and don'ts of portraits with the cherry blossoms.
GRANGE PARK
If the idea of a long trek into a ravine or nature reserve does not suit your family, then consider an urban classic like Grange Park. This newly renovated historical park at 26 Grange Road (Dundas St. W and Beverley St) is set right behind the Art Gallery of Ontario. It now features pretty landscaping, a Georgian manor and a Henry Moore sculpture that your kids are allowed to climb on. And yes, there are also plenty of colour-changing trees. Need a reward for the kids after they sit through a bunch of photos? Tell them that after I get the perfect shot, they're free to play on the park's playground for a while at the end of the session. Its best to take the TTC to get here as parking is limited in downtown Toronto. If you do drive try the Green P parking lot on McCaul Street near Elm.
HUMBER BAY ARCH BRIDGE
Website for Humber Bay Arch Bridge
Map for Humber Bay Arch Bridge
Here is a neat alternative to the inland park setting. This cool bridge with its lakeside location can be fun for a family photo shoot. The bridge is a quick walk from a couple of other locations where we can take photographs that combine the fall colours with the Humber River and/or Lake Ontario. If we head west, we can enter the Humber River Recreational Trail. If we head east, we get to the Sunnyside Boardwalk and a small, tree-surrounded beach. Note that on nice days, this part of town can get pretty busy, so a weekday photoshoot is a better bet.
CROTHERS WOODS
I find it interesting that one of the cool locations we have for fall foliage spotting is accessible off the back of a Loblaw's grocery store. Curious?
Coming from Eglinton and Bayview which is near me, you'll find the Thomas Hauser Memorial Trailhead, one of the trail's entrances. It's tucked away in the back of a very spacious Loblaws parking lot; it's the Loblaws that we locals call the "hidden Loblaws" located at 11 Redway Rd, East York, ON M4H 1P6 Sound familiar?
In an area that's inundated with traffic and construction, Crothers Woods is a neat walking getaway for urban dwellers looking for a breath of fresh air and a leg workout. I usually meet clients in the Loblaws parking lot and then wander from there. Wear comfortable shoes and be ready for a mild hike.
There are of course, many other gems in Toronto that are worth exploring and using for your annual fall colours family portrait with Storey Wilkins Photography. Here is a condensed list of suggestions:
Riverdale Zoo
East Don Parkland
Glen Stewart Ravine
The trails along the top of the Scarborough Bluffs
Lambton Park
Humber Marshes Park
Etienne Brule Park
Toronto Islands
Leslie Street Spit and the Lighthouse at the end
Trinity Bellwoods Park
Humber River Trail
Humber Arboretum
East Don Parkland (Leslie and Finch)
Todmorden Mills Walking Trail
Contact me for more information about my family portrait sessions and my Fall Family Photo shoots. Trust these to the professional!