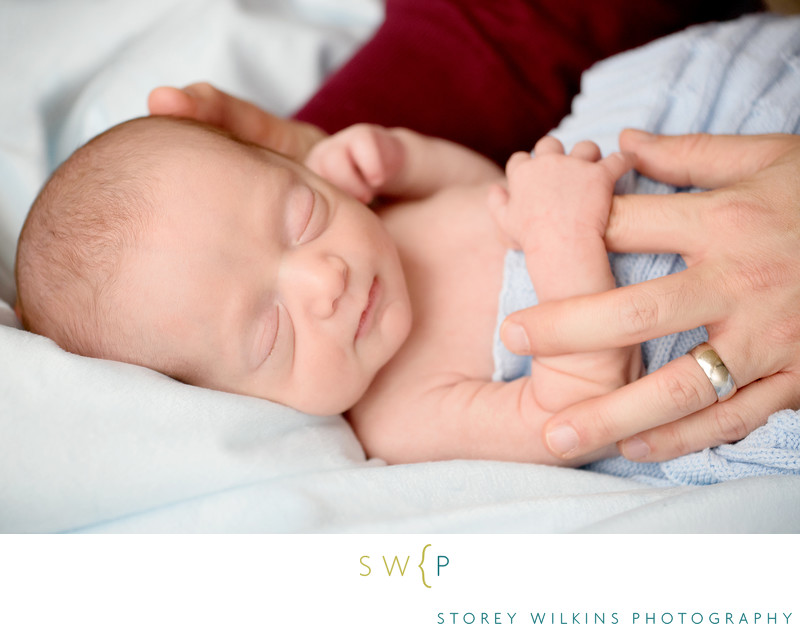 Toronto Newborn Baby Sessions
Genuine, at home, natural photographs of your newborn baby to use for your birth announcements, wall art, first year album and precious photo collection.
I offer newborn baby portrait sessions that look and feel a bit different from typical newborn photographs because:
You will be in some of the photographs with your baby (even if it's just your hands)
Your baby will be awake with eyes open in some of the photographs
Your baby will be at home and not in a studio
There will be very few props, just familiar blankets and pleasing colours.
What to Expect
For the 90 minute session, I typically arrive just after your baby's morning nap or just after one of his afternoon naps. We can coordinate the time closer to the session date as a new baby's nap schedule tends to change every couple of weeks. I start taking pictures shortly after I have a look around and find the cleanest pool of window light and least cluttered area in your home. Often the living room and master bedroom are good spots.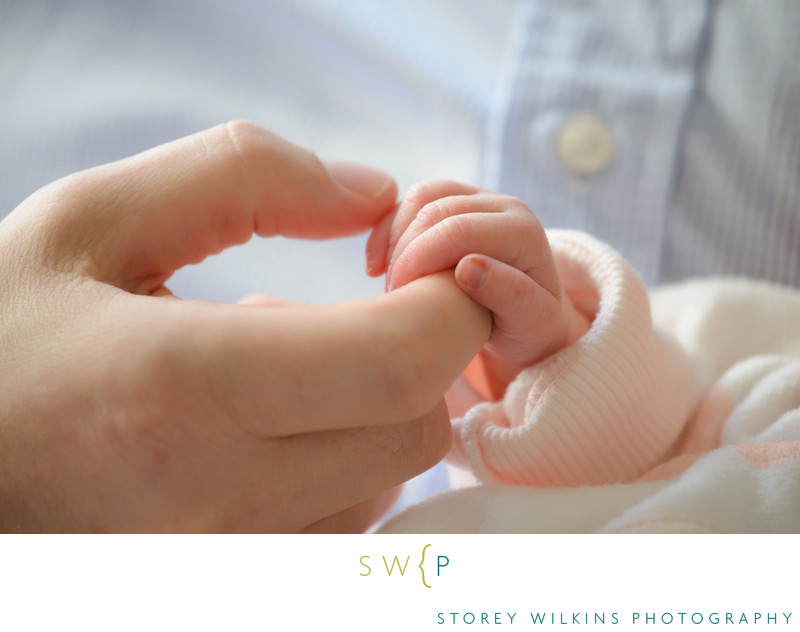 How to Dress your Newborn
Depending on how your newborn's skin looks, we may do some in his birthday suit. At some point we will layer up and here is where a well fitted top comes in handy.
Well Fitted
Given that most baby clothes are too big for newborns, I suggest you have the best fitting onesie on hand. That may be harder than it seems as clothes are often too big or already too small depending on how fast she is growing.
Plain as Possible
Try to find a top that is as plain as possible. That means avoiding bold patterns, logos or really bold colours. Again, this is often tricky to find as so many baby clothes are adorably loud. Of course that makes them so fun in real life, but in a photograph they can overwhelm the image. You want to see your baby's face first when you look at the photographs. If you notice the outfit first, then it was likely too bold.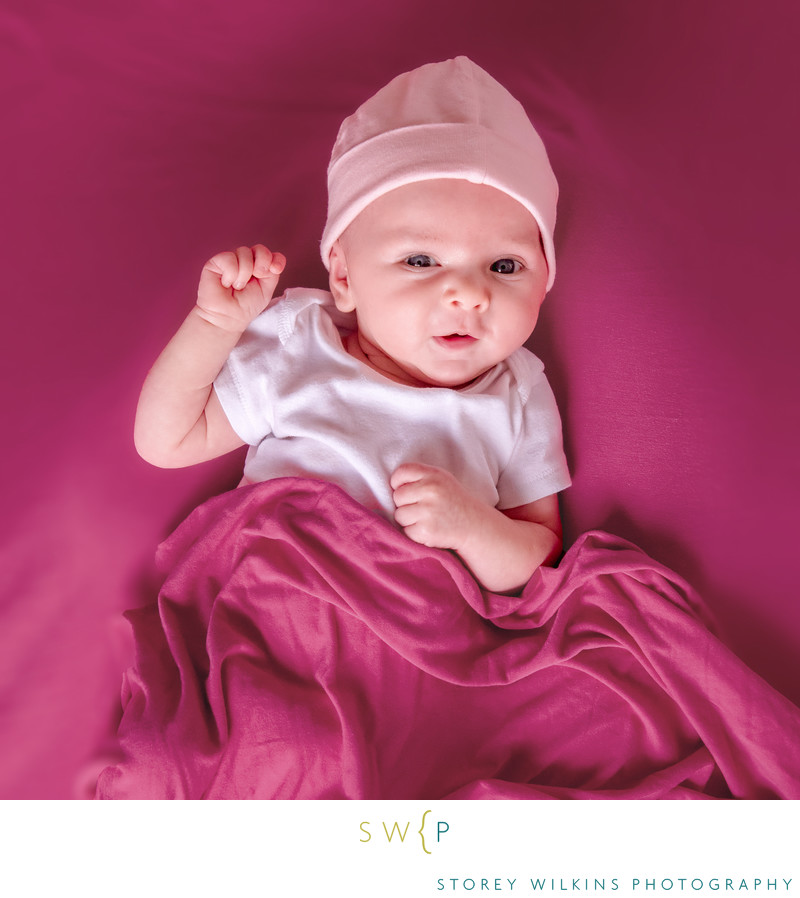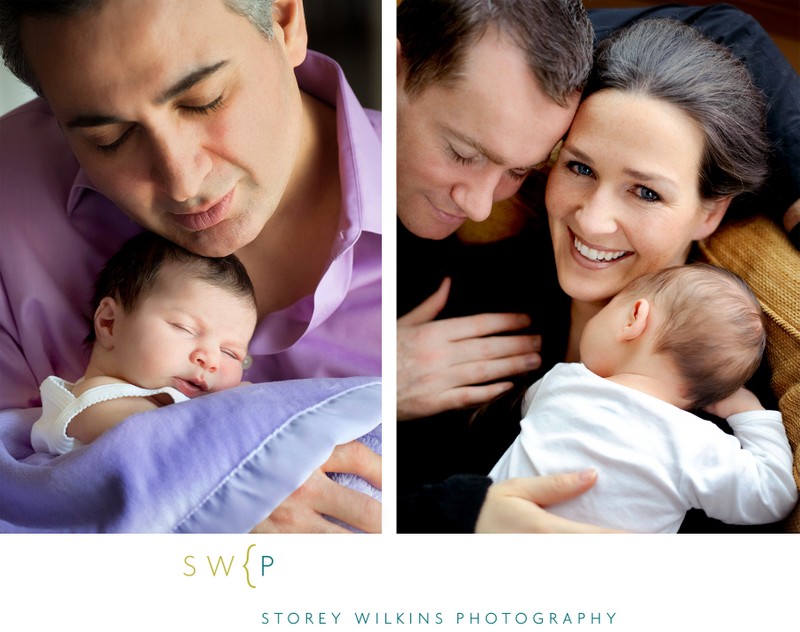 Best Age for Baby Photography
The common trend in newborn photography is to book the session within the first 10 days of your baby's life. This is necessary for a certain type of look of newborn portraiture (think Anne Geddes). However, my style is a little different in that I am looking to highlight your baby's eyes and early movements and facial expressions. So ideally your baby will be between one and three months old for this style of new baby portraiture.
So, for the most effective and adorable new baby portrait, aim to book your session with me at around the four to twelve week time frame. If you find your wee one is developing early I can always come sooner. Conversely, if you find he is taking his time becoming more alert each day, we can always push the session back a few weeks until he is ready for his moment in the spotlight.
Best Time of Day
As you have probably noticed, having a baby means being on their schedule from the moment they are born. In the early days this could mean sleepless nights and exhausting days.
Since babies are often up early the first nap is usually around 8am, the second around 1pm and the third around 4pm. So, ideally I would plan to arrive as one of these naps are ending. For example, if your baby is usually pretty calm in the morning, I would recommend we start at around 9 or 10 am, as he is waking up from his first nap. We can talk through all of that when you call me to book your session.
How to Plan
The best way to plan is to start by tidying up your living room and master bedroom the day before the session. Babies are so little but we end up having so much stuff for them. Ideally you would relocate all the stuff to a dark room that you know we wont be using.
Then if you could make your bed that would be great to. The master bed is often a terrific place to photograph your baby.
Once I arrive, your little one should be getting up from his nap. You will need time to feed and change him at that point. This is a great time for me to look around and scout where I am going to take pictures.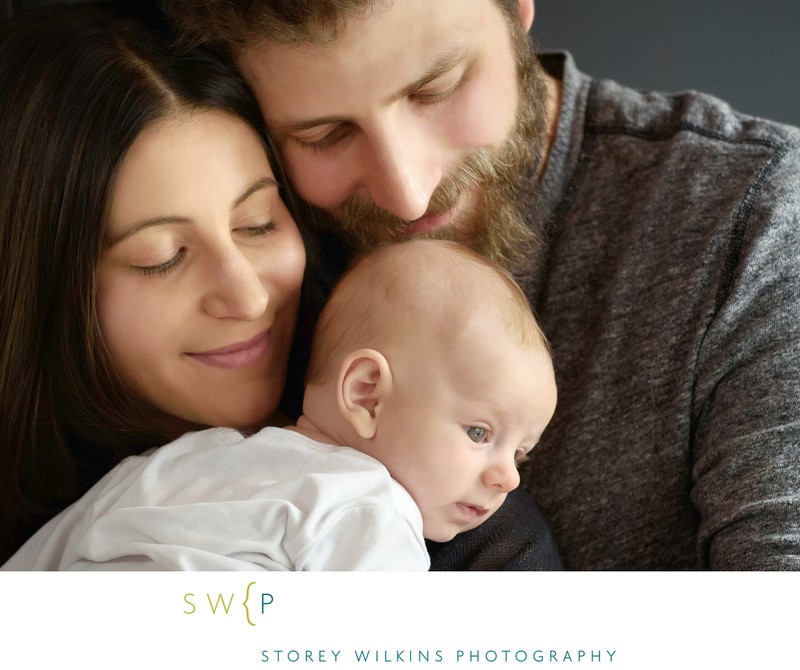 How to Book
First, have a look at my pricing. There is a session fee that includes a print credit towards the cost of products such as the digital files, prints, albums and cards.
Second, contact me to pick a day and time for the session. As I mentioned earlier, as the session day approaches we can always move the day and time to accommodate your little one's growth and nap schedules.
Finally, once we have a date in the calendar I will send you a link to my easy on-line contract where you can pre-pay for the session.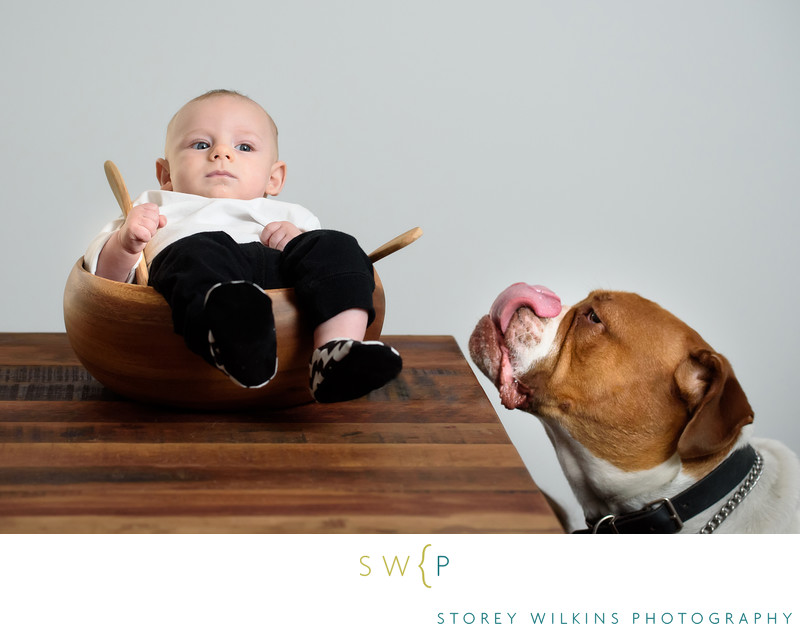 HOW TO ORDER THE PHOTOS
About two days after the session, we will have a virtual sales session so that you can view and order your photographs. This is where you will have the opportunity to purchase prints, wall art, custom photo greeting cards, albums and whatever display ideas you would like. I will share a link to a password protected on-line gallery that we will review together during the call. It will have about 40 photographs from the session.
By sharing my screen during our video call, I can walk you though the collection using my software, help you identify your must-haves, and guide you to selecting products that will be show off your favourite baby photographs.
Once you place your order and pay by eTransfer, the order will be sent into production at a local high quality professional lab right here in Toronto. They will ship your products directly to you. Any digital downloads that you order will be sent to you via email.
HOW TO SHARE THE PHOTOGRAPHS
After you place your order, the link to the gallery will remain active for another week. You can easily share the link to the on-line gallery with your friends and family. I find grandparents get particularly excited as they scroll through the gallery. They are welcome to place their own orders for prints, cards, frames, albums, etc. using the same on-line gallery.
ORDER ANNOUNCEMENTS AND HOLIDAY CARDS
Many of my clients purchase lovely photo cards that have a photograph on the front (and possibly inside and on the back) of the card. They then have writing on the cover and inside.
This is a great way to send announcements to your loved ones, as well as create memorable holiday cards. Your on-line gallery will have greeting card options that you can select and design yourself. I use a local professional lab to print the cards so the paper quality is usually superior to that found elsewhere. All packs of 25 cards come with envelopes.
I look forward to working with you to create a lovely natural newborn baby portrait of your precious Little.